Getting the best laptop under 50000 Rs in India isn't an easy task as there are plenty of options to choose from.  It is the most demanding price range and the brands do offer a wide range of laptops.  There are two different types of laptops available around this budget, one is a regular laptop for daily use and a gaming laptop for casual gamers.  How about getting the most balanced laptop under 50000 Rs? Well, that's the sweet spot you should be looking for.
Best Laptop Under 50000 in 2021
Asus VivoBook Ultra X413
Asus is one of the most trusted laptop brands in India and its VivoBook series is quite popular. Asus is the first brand to bring 11th gen Intel processors in India, the Vivobook Ultra X413 gets the 11th gen in all its variants. Let's see why it's the best laptop under 50000 Rs from Asus.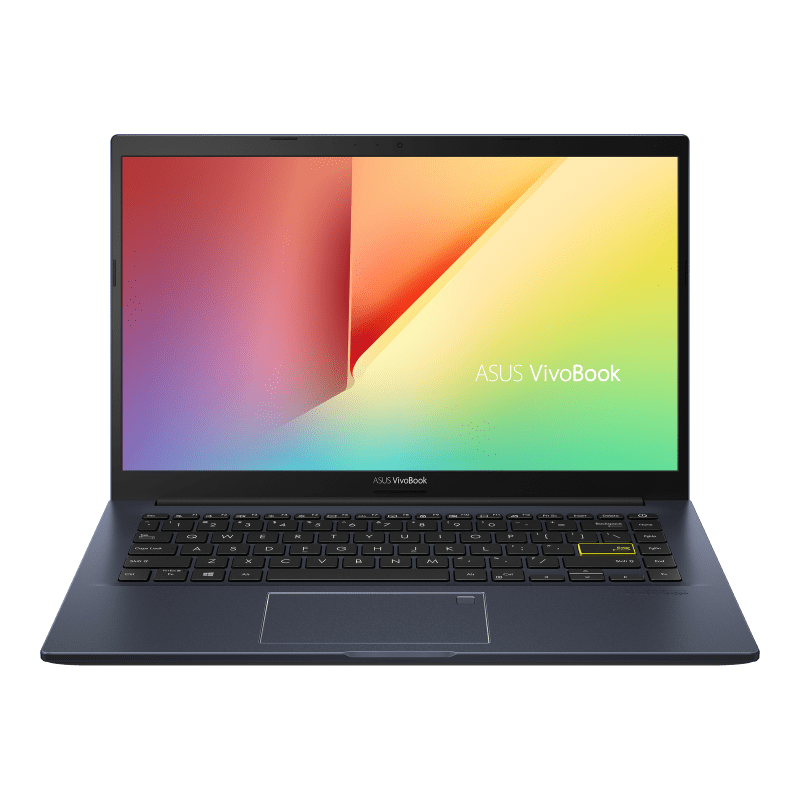 The first thing you'll notice about the X413 is the design, the laptop is thin and looks stunning with an 84% screen to body ratio. It weighs only 1.4 Kg which makes it easy to carry anywhere and I personally love lightweight laptops while traveling. As Zoom calls are one of the essential aspects of modern-day work culture, the laptop offers 720P HD webcam at the top which does the job just fine where Asus could've done a better job with the video quality. Let's talk about the performance where it matters the most, Vivobook Ultra offers various options depending on your budget, the base variant comes with an 11th Gen I3 processor and the top variant with 11th Gen I5. Both the variants offer Solid State Drive ( SSD ) up to 512 GB. The performance actually is really good especially if you're looking for a laptop for Work From Home and for students, it's almost perfect.
Asus Vivobook UltraBook gets a vibrant nano edge display that has good viewing angles. The keyboard supports backlit and the key travel is comfortable for most users. Asus Intelligent Performance Technology ( AIPT ) helps the laptop to balance the temperature, power-saving, and boosts the CPU performance. It gets a fingerprint sensor on the trackpad. If you're looking for a laptop under 50k which is light and performs well then VivoBook Ultra X413 should be your choice.
Pros
11th Gen Intel Processors
Lightweight and thin design
Good display with 84% screen to body ratio
Fingerprint sensor
Cons
Average webcam
Not for gamers
MSI Modern 14
MSI is known for its popular gaming laptops, Modern 14 is no exception.  In case, you didn't know MSI ( Micro-Star International ) is a Taiwanese computer hardware company that makes motherboards, desktops, graphic cards, All in PCs, and laptops.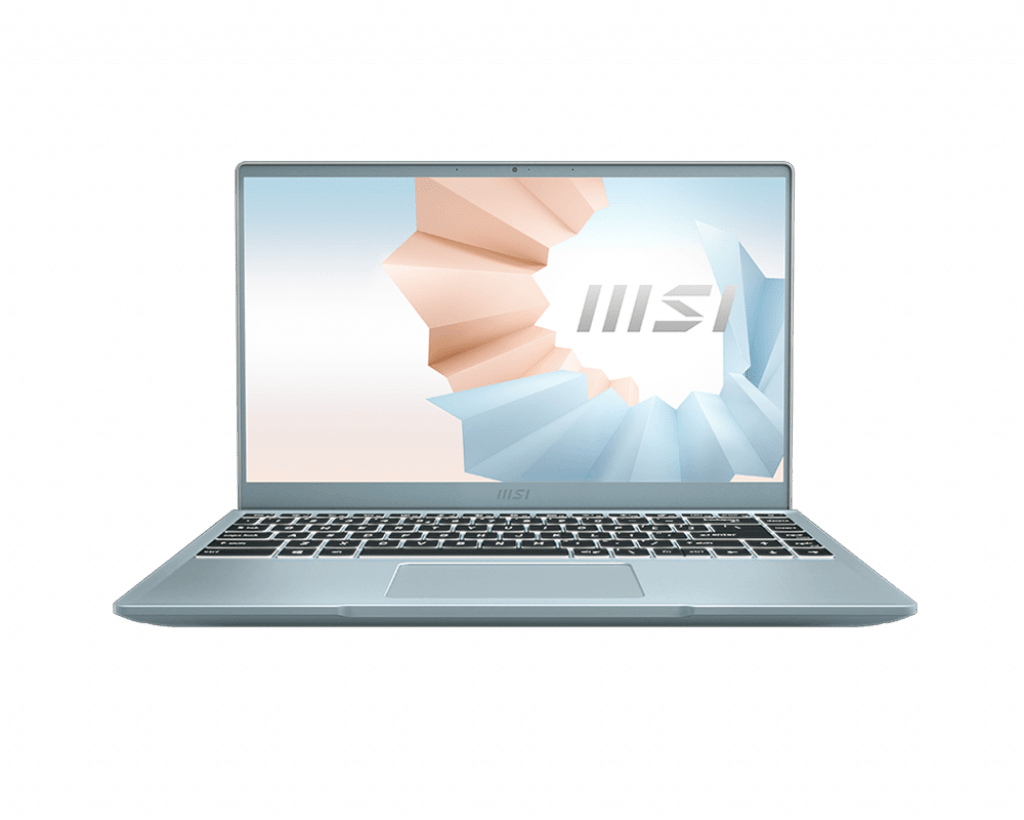 MSI Modern 14 gets a beautiful 1080P display with a 60 Hz refresh rate. Unlike other laptops, it has a hinge up to 180 degrees which comes in handy if your child accidentally pulls the display down, and also it has many use cases. The build quality is top-notch with Military-grade durability which is reliable and durable in the longer run. The laptop has really good aesthetics due to its nano-edge display and the keyboard adds the edge. The performance of the MSI Modern 14 is insane thanks to the latest Ryzen 5 Hexacore 4500U processor with AMD Radeon graphics support. The laptop is good for casual gamers which makes it one of the best gaming laptops under 50000 Rs in India.
MSI laptop weighs just 1.3 KGs which makes it one of the lightest laptops in this price range. Generally, most gaming laptops are heavy but MSI did an incredible job by making them light and portable. If you're looking for the best laptop under 50000 with the perfect blend of performance and casual gaming then Modern 14 should be in your cart.
Pros
Performance is really good
Light and thin
Vibrant display with 60 Hz refresh rate
Really good build quality
180-degree hinge support
Cons
Average battery life
No fingerprint sensor
Mi Notebook 14 ( IC )
Xiaomi is known for its budget smartphones but lately, they're launching some really good affordable laptops in India. Mi Notebook series is premium compared to its Redmibook series and I personally bought this laptop for my younger brother. Let's see why Mi Notebook 14 is one of the best laptops under 50000 Rs in India.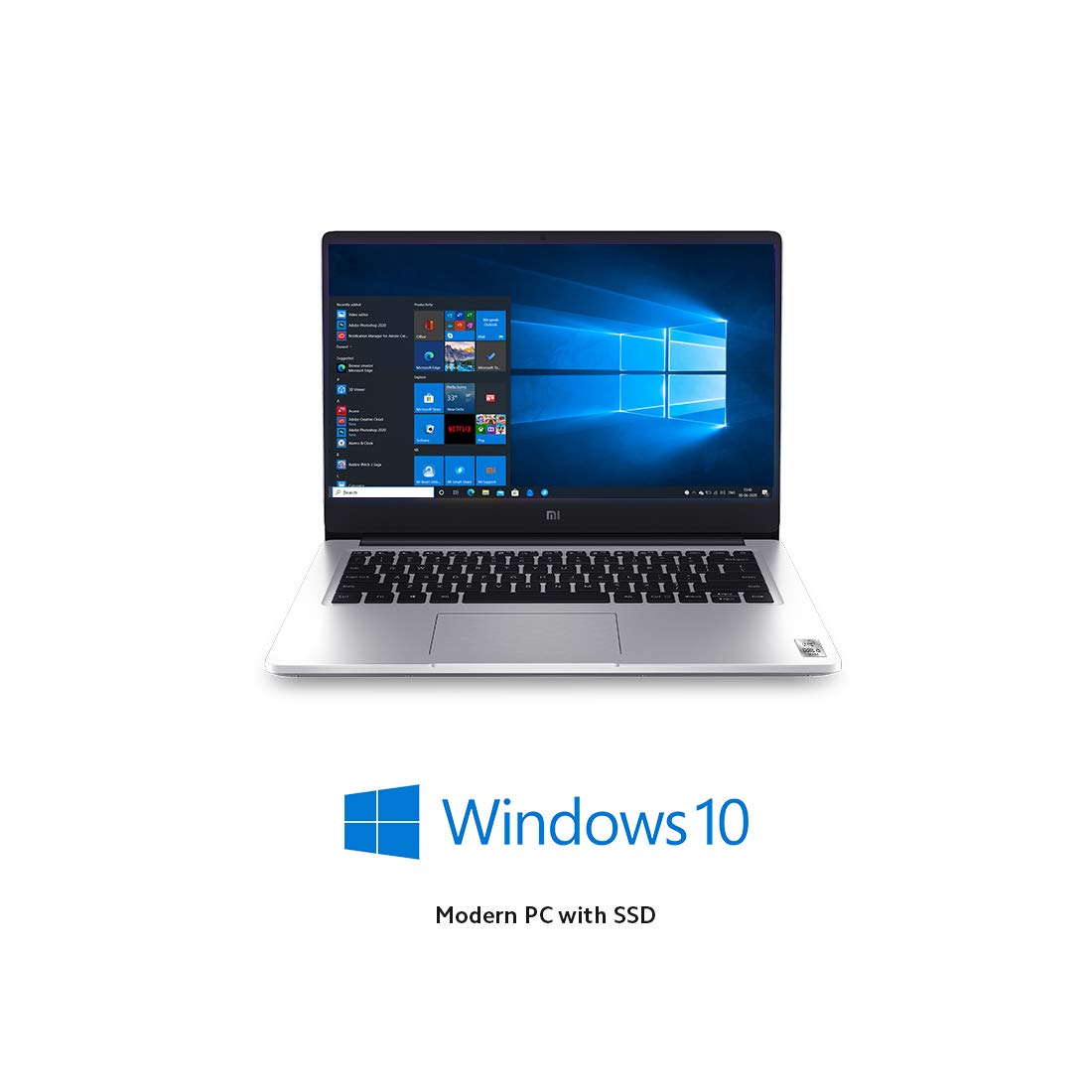 Xiaomi is very good at copying stuff from Apple, the design is inspired by the Macbook series which isn't a bad thing.  In some cases, it does a better job than Macs, it gets the full metal body which feels premium. The build quality is probably the best in this price range. When it comes to the design, it has a thick chin at the bottom and small bezels at the rest of the corners. I feel the horizon series looks far better than this which is priced quite high. The performance is really good thanks to the Intel I5 10th gen processor with optional Nvidia MX250 GPU.  I really like the display quality on this one which is far better than my 3-year-old MacBook Air.
The battery life is really good with 10 hours of usage which in real-world scenarios can last up to 7-8 hours easily. There is no LED-backlit in the keyboard which can be a deal-breaker for many. The webcam placement is quite weird, it's not built-in, so there is a separate webcam bundle you've to carry around and place on top whenever it's required. The laptop is perfect for students and people working from home.
Pros
Really good build quality
Elegant design
Really good battery life
Performance is smooth
Cons
No LED-backlit in Keyboard
No fingerprint sensor
Webcam is not build-in
HP Pavilion X360
HP is one of the oldest and trusted laptop brands worldwide, I still remember my first laptop back in 2015 which was from HP ( nostalgia ). It's not easy to get high-end features at affordable rates especially from HP and Dell. So don't expect the same specs as we get from Asus, MSI, MI, Acer, or Lenovo under the 50k price range.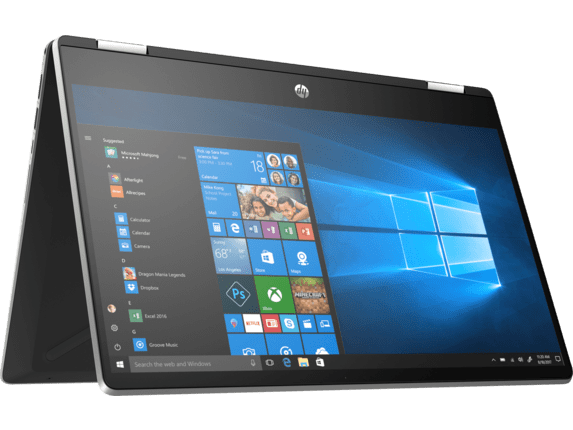 HP Pavilion X360 is a laptop made for students that are convertible and portable. The HP laptop gets the full HD IPS panel with a micro-edge and multi-touch display, it can be used as a tablet and full-fledged laptop. The laptop is perfect for students which have many use cases. The design is sleek and looks much better than old HP laptops It gets a backlit keyboard and the key travel is pretty decent. X360 is loaded with a Core Intel I3 11th Gen processor which does the job well for most tasks and definitely not for high intensive tasks like video editing or gaming.
The battery life is average which isn't surprising due to its multi-touch functionality. Unlike Asus Ultra X413, it doesn't have any fingerprint support. If you're a student looking for a laptop with touch screen support then HP Pavillion X360 is right up there.
Pros
2 in 1 laptop with touch screen support
The design and build quality is really good
Gets the latest 11th Gen Intel I3 chipset
Cons
Average battery life
Not suitable for high intense tasks
No fingerprint sensor.
Lenovo ThinkPad E14
ThinkPad is the premium series from Lenovo which is known for its premium quality and great performance. ThinkPad E14 is no exception, the build quality is insane which gets the 12 Specifications military certification. The laptop is made for business purposes and for the people who work insanely.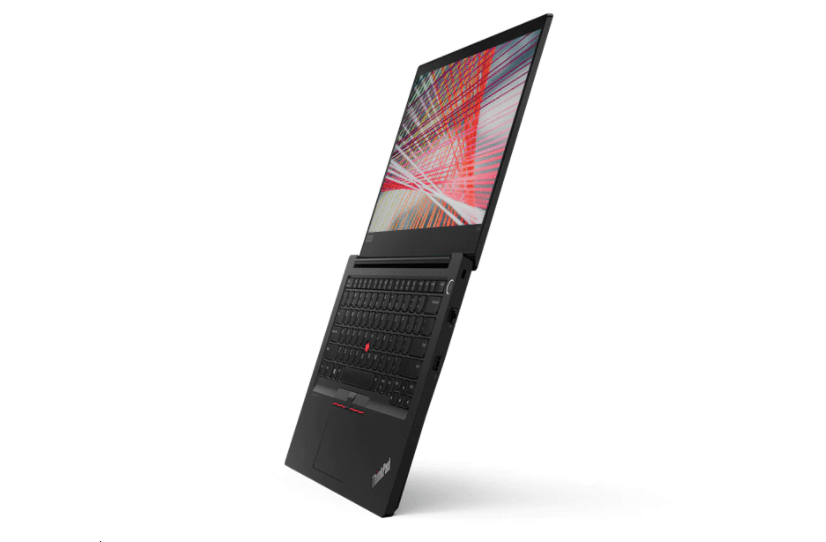 Lenovo Thinkpad E14 powers the AMD Ryzen 5 4650U Pro which gives ample performance for most productivity tasks and good for casual gaming. When it comes to the display, it has a 1080P panel with Anti-glare technology where the quality is fine. The hinge where most laptops aren't that great but this one has a 180-degree hinge. If you're someone careless who spills fluid and rugged usage then this machine will take of itself. It weighs around 1.59 Kg which is fine and no that heavy for a business-oriented laptop.
The battery is impressive where the brand claims up to 13 hours but ideally, it can last around 8 hours and it can charge 80% in an hour. No wonder why it's one of the best laptops you can buy for under 50000 Rs in India.
Pros
Great build quality
Pretty good performance
180-degree hinge
Amazing battery life
Cons
Price can be higher depending on the demand
Slightly on the heavier side
Dell Vostro 3400
Dell is the most premium Laptop brand worldwide and the brand value is on par with Apple. Dell's pricing is premium compared to other brands which can go up 25% and their high-end laptops compete directly with Apple MacBooks. So which is the best Dell laptop under 50000 Rs? The answer would be the Vostro 3400, let's find out why.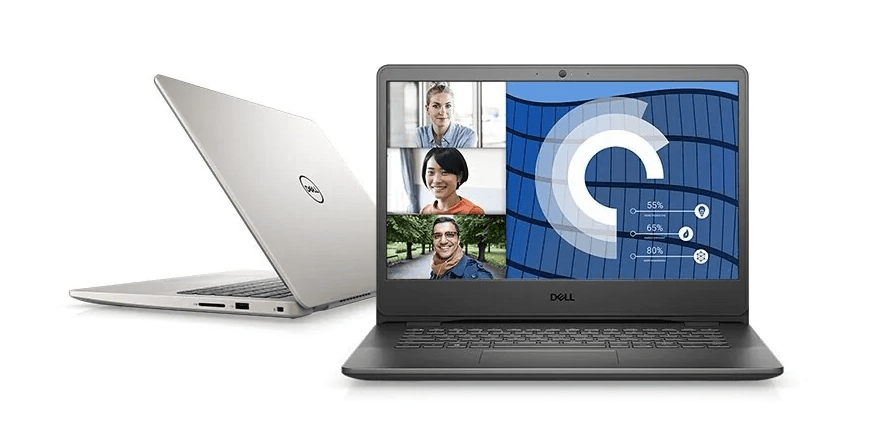 Dell Vostro 3400 runs on the latest 11th Gen Core I5 processor which is impressive but it doesn't offer Solid State Drive for the base variant and you need to increase your budget for the 512 SSD variant. Overall the performance of this laptop is really good and please avoid the HDD variant. Personally, I didn't like the design which has a thick bezel at the bottom where Dell could have a done a better job. The brand takes seriously which gets the Trusted Platform Module 2.0, basically, it protects your valuable data from unknown software malicious attacks.
The battery life is quite average on this one with 4-5 hours usage, so it's not the ideal one if you travel a lot.
Pros
Performance is good
Build in security
Cons
No SSD for the base variant
Low battery life
Lenovo Ideapad S145
Lenovo is the leading brand when it comes to budget laptops in India. Is Ideapad S145 is the best laptop under 50000 from Lenovo? Let's find out.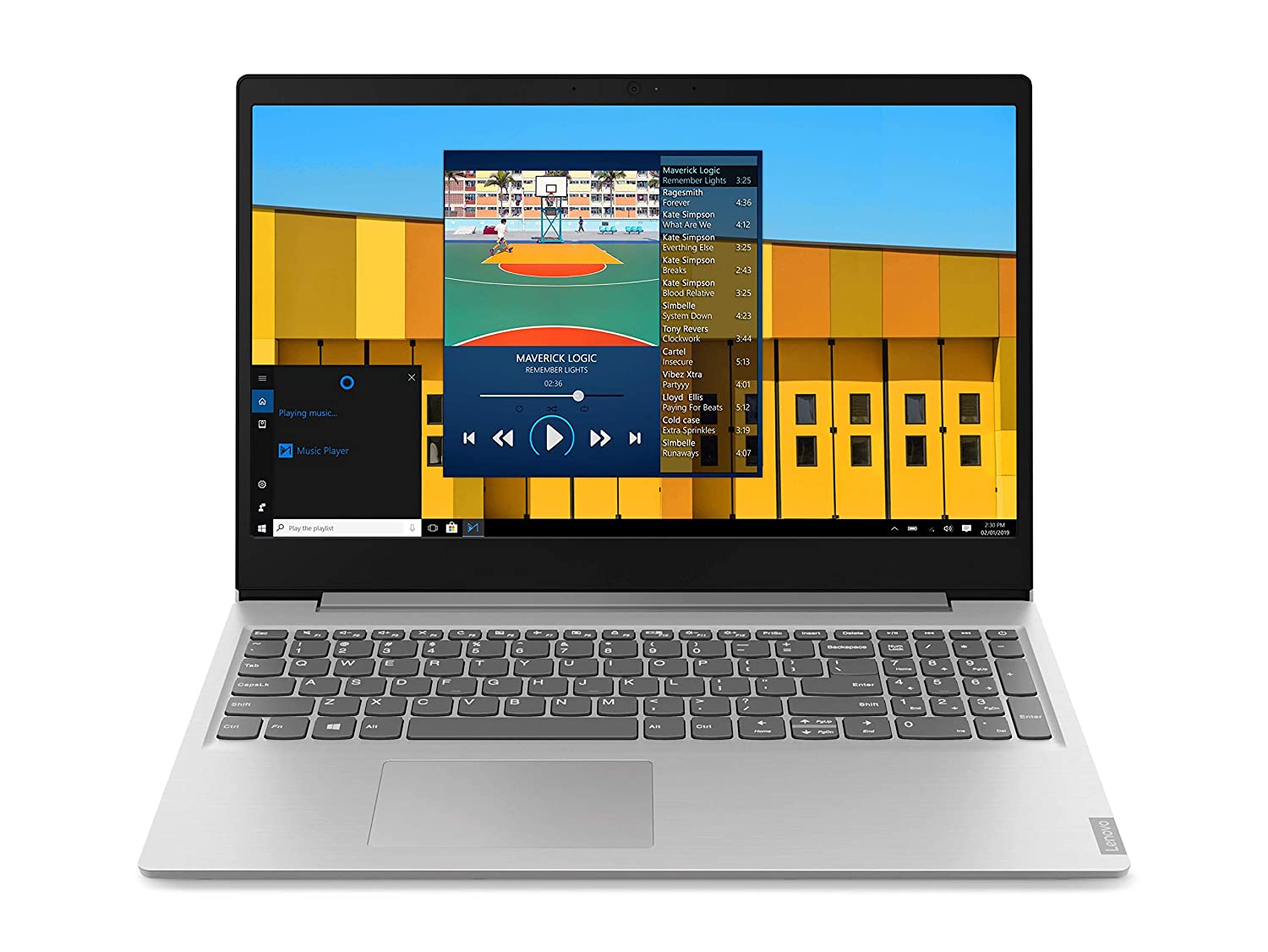 The laptop gets the latest 10th Gen Intel i5 1035G1 quad-core processor with a base clock speed of 1.0 GHz and a max boost of 3.0 GHz. The performance on this laptop is quite smooth, it won't get boiled up like other gaming laptops at this price point.  It has basic Integrated Graphics, so not the powerful laptops out there in the market for high-end multi-tasking.  The laptop loads the 8 GB DDR4 RAM and 512 GB SDD which is the icing on the cake. It's only one of the few laptops under 50000 Rs that offers 512 GB SSD out of the box.
The design is clean with thin bezels and one of the best-looking laptops under Rs 50,000. The build quality is really good which gives the laptop a premium feel. S145 runs on the Windows 10 Home and sports a 15.6-Inch Anti-glare display with 1080P resolution.  It weighs just 1.85 Kg which is light enough to carry anywhere.
Pros
Clean design
Good display
10th Gen Intel processor
Cons
Not the best when it comes to battery life
No dedicated graphics
Average build quality
Acer Aspire 5 A515
Acer's latest Aspire series is doing well in the budget segment and Aspire 5 is one of the best laptops under 50000 INR in India. The laptop has some serious specs to look for and has some edge over the S145.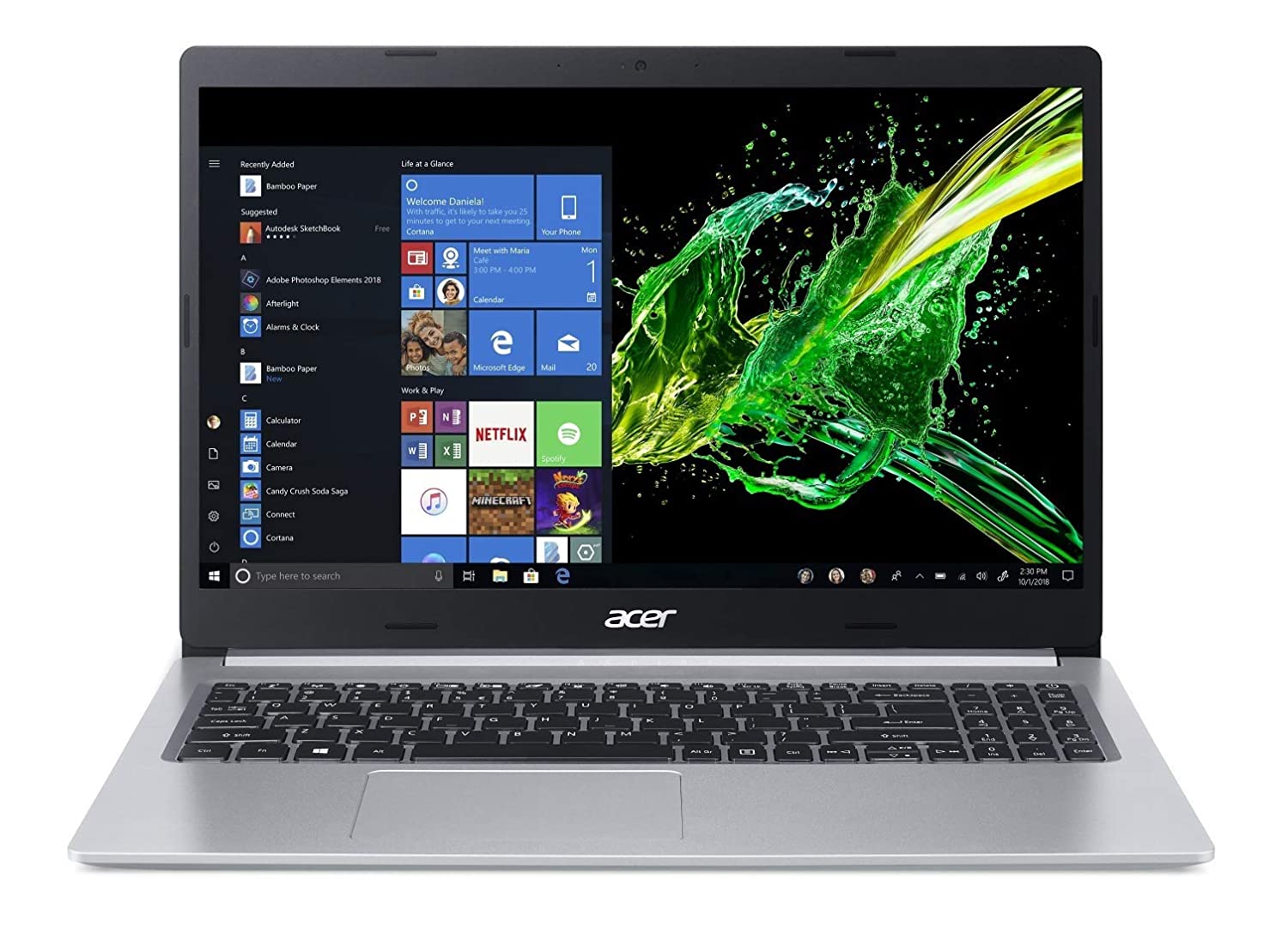 Aspire 5 rocks the 1080P panel with an Acer ComfyView LED-backlit TFT LCD. The visuals are vibrant on this display and you shouldn't face many issues.  It comes with pre-loaded Windows 10 Home and Student right out of the box. The laptop powers the latest Intel I5 10th Gen 10210U Quad-core processor with integrated graphics. When it comes to the storage, it loads the 512 GB SSD and 8 gigs of DDR4 RAM. Overall the performance is butter smooth for casual to moderate usage.
Acer Aspire 5 is thin and light with 1.79 cm thin and weighing 1.8 Kg. When it comes to battery life, it does a good with over 9 hours of battery backup which is way better than many laptops under 50000.
Pros
512 SSD storage
Long battery life
10th Gen Intel processor
Cons
Best Laptops under 50000 Rs FAQs
Which is the best gaming laptop under 50000 Rs?
There is no specific answer to this, we have curated an in-depth article for the best gaming laptop under 50000 in India.
Which is the best Dell laptop under 50000 Rs?
Dell Vostro 3400 is the best one right now but it doesn't have a solid-state drive SSD out of the box. Make sure to purchase for better performance.
Which is the best HP laptop under 50000 Rs?
HP Pavillion X360  ( 2 in 1 ) is the best laptop for students which can be used as a full-fledged tablet.